Welcome to The Cottages at Pecan Plantation! We are excited to announce that we are beginning construction of The Cottages in June 2021.
This new development in Pecan Plantation will include 32 cottage style homes ranging in size from 1,305 - 1,750 square feet and will be built by JA Properties, Ltd. The Cottages will be sold as a complete new home package as lots are not available for individual purchase. Each floor plan has been carefully designed to be placed on specific lots throughout The Cottages. On the following page, you will see how these homes will be placed with the neighborhood.
The Cottages are intended to be built as Spec Homes rather than custom built homes. At this time the conditions throughout the building industry are unstable relating to material pricing, availability and labor. For this reason we will not be pricing these homes until they are very near completion. Additionally, we are not able to accurately predict when the first homes may be available. Once we release prices on our new homes, the homes will be available on a first come, first serve basis. Unless otherwise notified, we will not be accepting pre-sale deposits on homes prior to pricing and availability.
The Cottages will be built in lot number sequence in the following three phases:
Phase 1 Lots 3478 - 3489
Phase 2 Lots 3490 - 3501
Phase 3 Lots 3502 - 3509
HOME FEATURES
2 Bedroom & 3 Bedroom Plans
2 Bathrooms
2 Car Garages, rear entry
Golf Cart Garage
Foam Insulation
Crown Molding
Decorative floor coverings
Decorative light packages
Whirlpool Appliances
All Electric Home
Common green space areas
Minimal yard maintenance
Side yard patio
Concrete streets
AMUD water & sewer service
AT&T fiber service
Central location in Pecan Plantation
Additional Information
PPOA Fees & Dues apply to buyer
The Cottages will have a Cottage Home Owner's Association (CHOA) in addition to the PPOA. The purpose of the CHOA is for the maintenance and upkeep of the common areas in The Cottage development including but not limited to mowing, edging, sprinkler system operations / repairs, and other general maintenance needs within these common areas. The CHOA will not be responsible for individual lot maintenance.
Yard Maintenance is not included
Contact us for more information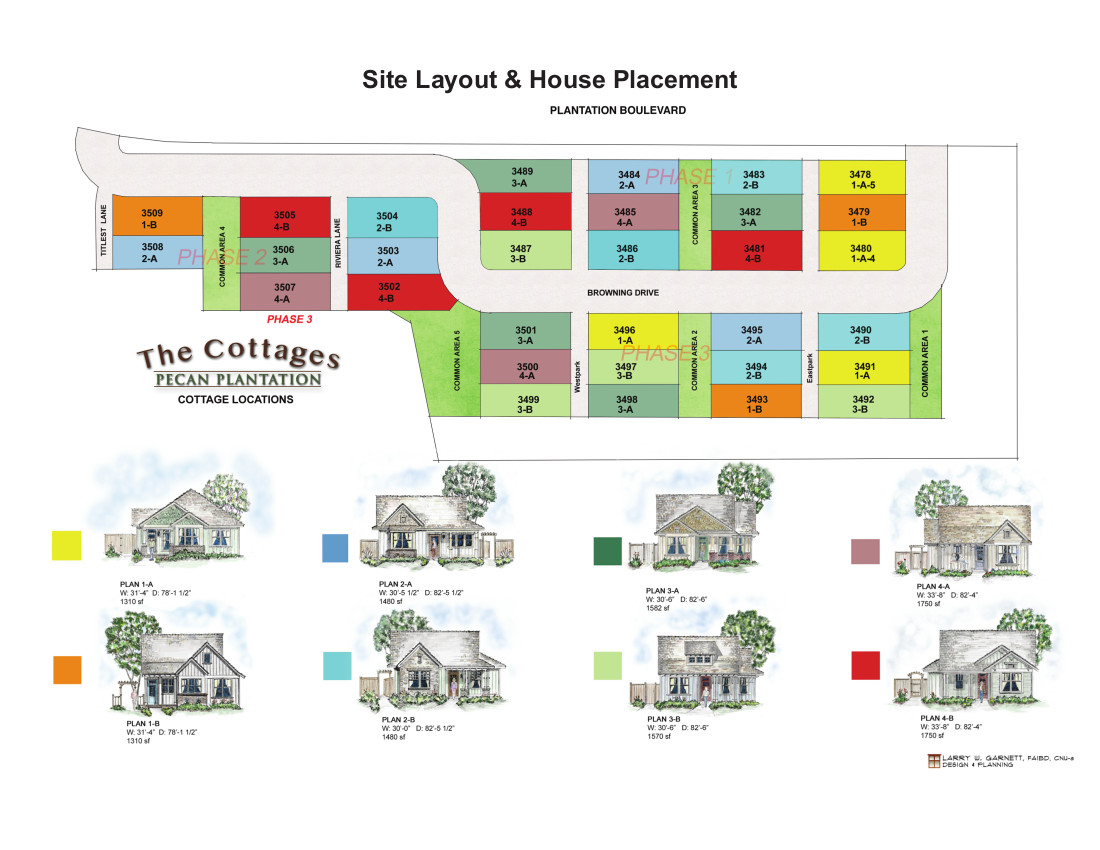 Phase I is almost complete. Houses are open for viewing during Open House times. We are accepting Sales Contracts/Bids for the next week (May 16 - 20) before deciding which contracts to accept.
After this initial offering period, interested buyers can contact our office for more information about remaining houses…we are selling these as contractor/builder – not as Real Estate Agents (we do not have any RE Agents, since we no longer have a broker connected with our office.)
Plans are to begin Phase II and later Phase III if there is still demand for these homes…so timing of next phases is dependent on how quickly these first 12 homes sell.