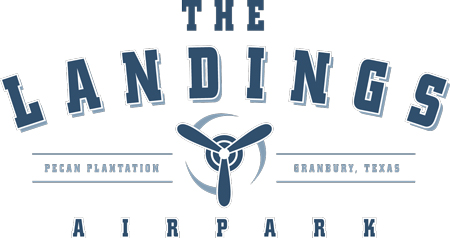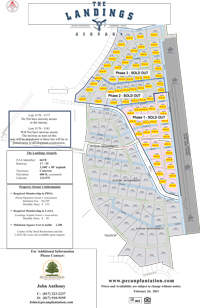 The Landings Airpark at Pecan Plantation is a spectacular setting for the aviation enthusiast who desires the convenience of fly-in living.  The Landings Airpark features a 3,100 foot paved runway, grass taxiways and a self-serve fuel station at the SE end of the runway.
Runway frontage and taxiway access home sites are currently available in The Landings.
These airpark home sites range in size from 0.65 acres to 1.9 acres.  All home sites are complete with paved roads, electric service, water and sewer service and high speed internet.
The minimum square footage to build is 2,200. Buy your lot today……Build later.  There is not a time frame as to when you need to commence construction after you have purchased your property.  Hangars may be constructed with your residence but may not be built prior to the construction of your home.
Please contact Plantation Orchard LP, the developer for additional information.
The Landings Airpark
    FAA Identifier:    66TE
    Runway:            17 / 35
    Taxiways:           Grass
    Elevation:           684  
    Unicom:             122.975
Property Owner's Information
Required Membership in PPOA (Pecan Plantation Owner's Assoc.)
    Initiation Fee:       $4,645
    Monthly Dues:      $   155
Required Membership in LAOA (Landings Airpark Owner's Assoc.)
    Monthly Dues:      $   50